And here is the end of another year. December always gives you some roller coaster vibes. This year must be tough year for all of you but have given some unforgettable joyous moments. This is how the life is. Every year teaches us some new realities of life, now it depends upon you thorough which lens you see the life; the cheer one or the dull one.
You survived this year with courage and power. As a token of appreciation for you, MalbusFam is dropping some excited prices for you on the end of this year by putting sale of up to 40% on all our articles. In this spirit, MalbusFam is designating December as the Customer Appreciation Month!
We initiated the journey on Social Media around a year back, the love and the appreciation that we got from our customers are beyond speech. From subscription to loyal points to give away stories to our blog highlighting styling ideas, we are excited to have you to join the party.
In this whole year, MalbusFam has learned a lot and meanwhile we loved to share this journey with our audience. For the first time we expanded our product line, from magnets to kaftans to kimonos to pret wear. And the response we got from our audience is just overwhelming. Malbus has become the first brand in Pakistan who is offering the embellished modest wear with hand work. For the first time in history, Malbus is bringing the formal wear in a modest way because we know how our apparels define your style statement.
Iman Vellani
When Marvel Studios announced their new Kamala Khan character, excitement spread over the internet about Iman Vellani. The young Pakistani-Canadian actress will also star as Kamala Khan in the 2023 movie The Marvels.
In an interview, Iman expressed relief over not having to "go out of [her] way" to discuss being a Muslim and being Pakistani. The fact that she identifies as both naturally unfolds in the movie as viewers learn more about her character. She went on to say, "People seeing a person like me involved in a project as big as this, I think, is inspiring enough." 
Rawdah Muhammad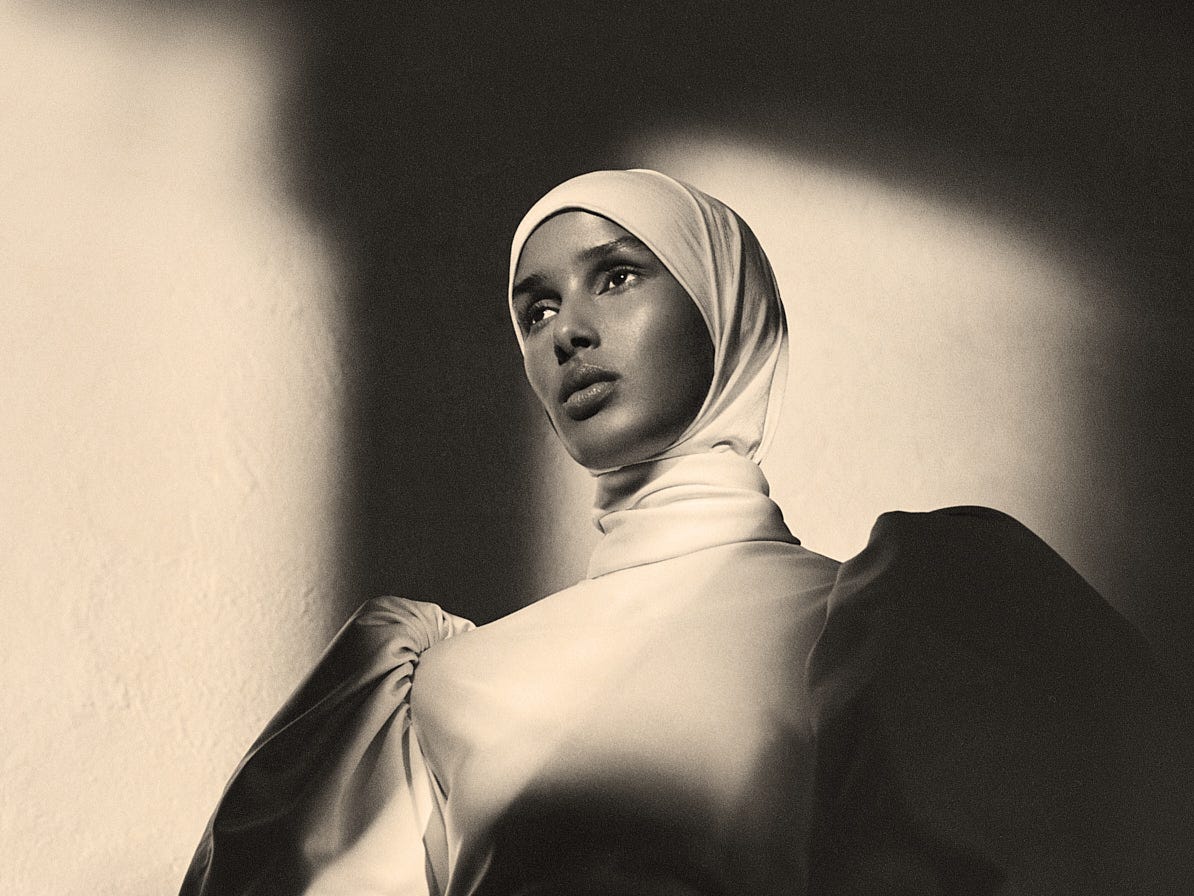 Rawdah Mohammed is a model, activist, fashion editor, and a former behavioral analyst challenging the perceived notion that hijabi women are oppressed, timid, and restricted. The 29-year-old was born in Somalia, but spent several years of her childhood in a Kenyan refugee camp due to civil war. At age nine, Rawdah and her family were granted asylum in Norway.
She is on her way to becoming a global icon for modest fashion and inspiration for Muslim girls worldwide. Rawdah continues to fight for the inclusivity of modest fashion and Muslim women in the fashion industry in her role as a fashion editor for Vogue Scandinavia. 
Nigar Johar
Lieutenant General Nigar Johar Khan is a retired three-start general in Pakistan army. She is the first and only woman in the history of Pakistan Army to reach the rank of Major-General. Along with other remarkable performances she got the Hilal-e-Imtiaz (Crescent of Excellence) and successfully completed her tenure in 2022.
Sanam Chaudhary
Sanam Chaudhry is a former actress from Pakistan. Sanam had done many hit serials but on the peek of her career, she says goodbye to showbiz and left the industry. After her marriage, Sanam didn't appear back in dramas and later discloses that she will not come back as she had followed the teachings of Islam. But all in vain, so that was her turning point when she reconnected with Quran, Allah Ta'ala, and his teachings. Then she read that what things basically are demanded by our religion and then she left her all the life necessities and fame that one could wish for and returned to Allah. 
Hina Rabbani Khar
Hina Rabbani Khar is a Pakistani politician, who is serving as the Minister of State of Foreign Affairs since April 2022. She recently undertook a one-day official visit to Afghanistan. In Kabul, she met with Acting Foreign Minister and Deputy Prime Minister where a range of bilateral issues of common interest including cooperation in education, health, agriculture, trade and investment, regional connectivity, people-to-people contacts and socioeconomic projects were discussed.
Despite having extreme perceptions on women of Afghan Government, Hina did a remarkable job by representing herself on behalf of Pakistani Government which is an ultimate depiction that how powerful and decision maker women are in Pakistan.
With every passing year, we see Muslim women and their many accomplishments becoming more visible and represented for who they are and what they are capable of becoming. Nothing feels better than witnessing Muslim women securing their space and leading in every career path they passionately take on, whether it's politics, fashion, entertainment, sports — or beyond. Congratulations to all the inspiring women of 2022. Mashallah!
---